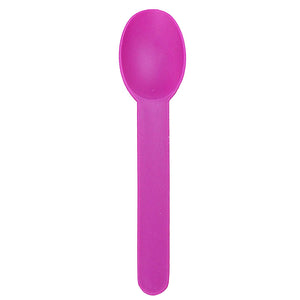 Description:
These polypropylene heavy weight solid color spoons are perfect for ice cream, frozen yogurt (froyo), gelato, to-go takeout, acai bowls, poke bowls, shaved ice, Italian ice, tapioca boba pearls, soft-serve, toppings, sundaes, custard, pudding, jello, cake, pie, soufflé, fruit, oatmeal, cereal and soup!

As usual, all of our spoons are made from high quality FDA approved plastic.

We can also CUSTOMIZE any of our products with your business' branding design. We provide the canvas, you provide the vision!