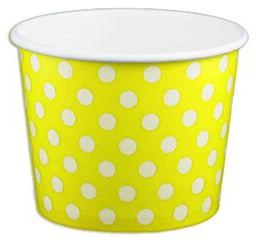 Description:
FUN! FUN! FUN! Liven up your customers' ice cream-frozen yogurt experience with our yellow polka dot cups!

Our containers are perfect for ice cream, frozen yogurt (froyo), gelato, to-go takeout, acai bowls, poke bowls, shaved ice, Italian ice, tapioca boba pearls, toppings, sundaes, custard, pudding, jello, cake, pie, soufflé, fruit, oatmeal, cereal, soup, salad, and can even hold liquid without getting soggy! They're also microwaveable.

As usual, all of our cups and bowls are made from premium FDA approved paper.

We can also CUSTOMIZE any of our products with your business' branding design. We provide the canvas, you provide the vision!

These 12oz cups have a top rim that's 3.9" in diameter, their bottom is 3.3" in diameter and they're 2.8" tall.